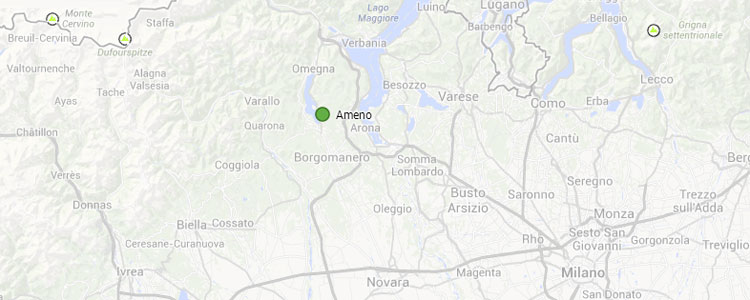 Ameno is a municipality located in the province of Novara in the region of Piedmont.
Parts of the municipality overlook Lake Orta. The village is separated to the east from Lake Maggiore by the Alto Vergante mountains.
Ameno is situated approximately 1 hour from Turin and Milan and 45 minutes from Malpensa airport, with good motorway connections.
AIRPORTS
Milano Malpensa – 44 Km
Informations – Tel. 02.74852200 – 800.337337
Web: www.sea-aeroportimilano.it
Torino Caselle – 138 Km
Informations – Tel. 011.5676361 – 011.5676362
Web: www.aeroportoditorino.it
BUSES
Arona – Borgomanero – Omegna
Stops: 1. Via Porta n.4 – Lortallo; 2. Crocevia Allea
Autoservizi Comazzi
Via Simonotti n.35 – Borgomanero (NO)
Tel. 0322.844862 – Fax 0322.846465
Web: www.comazzibus.com
TRAIN STATIONS
Orta-Miasino – 4 Km Frazione Legro
Arona,
Largo Duca d'Aosta 1
Tel. 0322.242044
Web: www.trenitalia.it
BOATS
Lago d'OrtaNavigazione Lago d'Orta s.r.l.
Via Curotti 36 – 28887 Omegna (VB)
Tel. 345.5170005 – Fax: 0323.861018
E-mail: info@navigazionelagodorta.it
Web: www.navigazionelagodorta.it
TAXI
Taxi stradale & Taxi navigazione – Orta San Giulio (No)
Via Basilica, 4
28016 – Orta San Giulio (No)
Sig. Garau Marcello
Tel. e Fax 0322.911967
Cell. 346.2111587
Email: info@taxilagodorta.it