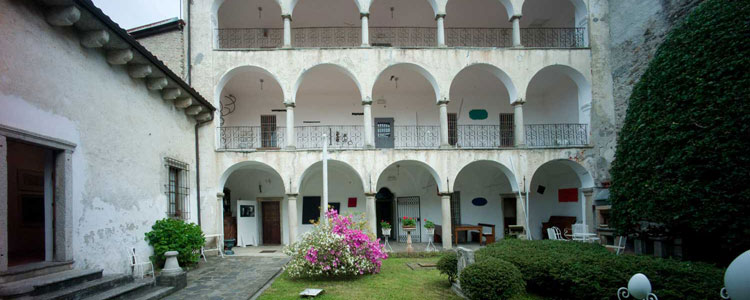 Calderara House, situated in the centre of Vacciago, is a fine example of bourgeois Renaissance architecture. The painter Antonio Calderara (1903 – 1978) transformed the house into a home-studio to house a collection of modern paintings and sculptures, some of which he created and others by numerous international artists with whom he was friends with or whose work he held in high esteem.
The exhibition includes works by artists of the calibre of Jesus Raphael Soto, Josef Albers, Vasarely, Yves Klein, Lucio Fontana, Arnaldo Pomodoro, Osvaldo Licini, Piero Manzoni and many others.
To comply with current regulations, for this summer season the Calderara Foundation will be open by reservation with a guided tour according to the following calendar:
July:
Saturday 18 July 4.30pm – 6.30pm
Sunday 26 July 10.30 am – 12.30 am

August:
Saturday 1 August 4.30pm – 6.30pm
Sunday 2 August 4.30pm – 6.30pm
Sunday 9 August 10.30 am – 12.30 am
Sunday 16 August 4.30pm – 6.30 pm
Sunday 23 August 4.30 pm – 6.30 pm
Saturday 29 August 4.30 pm – 6.30 pm
Sunday 30 August 10.30 am – 12.30 am
Groups of max 7 people. Reservations required until reaching the maximum number of participants to be made by calling +39 370 7084181 (Elisa).
If it is not possible to book the visit, it remains possible to go to the Foundation during the opening days and times and check with the staff if there are places available for access to the museum.
Otherwise it will be possible to book for another date on the calendar, but not to arrange openings or extraordinary visits.
Visit the Foundation's official website: www.fondazionecalderara.it