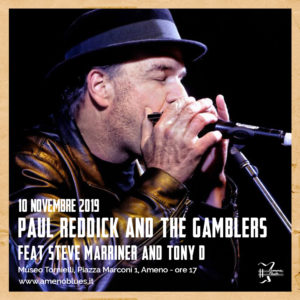 Domenica 10 novembre – ore 17.00 – Museo Tornielli
Nell'ambito della rassegna "L'altra domenica di Ameno":
Concerto di PAUL REDDICK and THE GAMBLERS feat STEVE MARRINER and TONY D
Ingresso 10 euro (under 18 gratuito)
Una nuova proposta di Amenoblues nella prestigiosa location del Museo Tornielli di Ameno: Paul Reddick, cantante, armonicista e compositore canadese che da più di trent'anni propone brani originali acclamati dalla critica portando la sua musica in giro per il mondo.
Reddick è un esponente di punta del blues contemporaneo, con dieci album all'attivo e numerose collaborazioni.
Il recente album Ride The One lo ha infatti visto vincitore del prestigioso premio canadese "Juno Award" come miglior album blues, mentre il brano I'm A Criminal è stato selezionato dalla Coca Cola come sfondo musicale per uno spot dedicato al mercato canadese e statunitense.
Reddick si esibirà in Italia accompagnato dai Gamblers, band che vanta al proprio attivo collaborazioni e produzioni con artisti di fama internazionale tra cui Fabio Treves, Jerry Portnoy (armonicista di Muddy Waters ed Eric Clapton ) ed Otis Grand solo per citarne alcuni.
Ospiti d'eccezione in questa tournée saranno i due talentuosi chitarristi Steve Marriner e Tony D, membri della nota formazione canadese Monkey Junk, vincitrice per due volte del canadese Juno Awards con gli album To Behold e Time To Roll.
Per ulteriori informazioni:
info@amenoblues.it
tel. 335.5957335