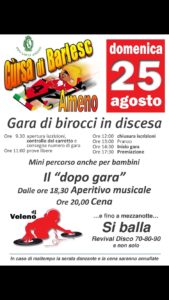 Also this year, a new edition of the Cùrsa di Barlesc (drop-down competition) has arrived in the streets of Ameno, with a mini-course also for children, organized by the Pro Loco of Ameno.
At 9.30 am registration will be open. Then free practice at 11am and lunch at 1pm. At 2pm, the race will begin. It will end with the awards ceremony at 5.30pm and a musical aperitif at 6.30pm. To follow, at 8 pm, dinner and dance with the Veleno DJ.
In case of bad weather, the dancing and dinner will be canceled.